Today, in the Invent Like An Owner Podcast, Dave speaks with Josh Petersen and Matt Round. The conversation takes us back to Amazon's early years, when the Personalization team was put together and built on features such as Similarities, Instant Recommendations, Cart Recommendations and more. The team strove to iteratively improve key features; over time, the Personalization and Automation worked toward Jeff Bezos' vision of "a store for every customer". They also talk about the effectiveness of small cross-functional teams, feature testing through Web Labs, MRT (Matt's Recruiting Tool) – a tool still being used today, and much more.
For over 20 years at Amazon, Josh Peterson helped create highly visible and innovative technologies used by millions of customers. He was the Director for the Personalization team and then led different teams at Amazon including Prime Photos/Cloud Drive, AWS, and Bots/NLU. Matt Round is the former Director of Software Development, and later became the Managing Director responsible for establishing the Amazon Development Centre in Scotland (a wholly owned subsidiary of Amazon.com) including full responsibility for team building, project selection and implementation oversight.
Episode Resources:
This episode is sponsored by Ideoclick, led by ex-Amazonians Justin Leigh, Tom Furphy, Andrea Leigh, and Mike Burrington. Ideoclick is the leading e-commerce optimization platform for brands to win Amazon and e-commerce.
Memorable Quotes
Memorable Quotes from the Interview, discussing helpful topics for entrepreneurs then and now:
"You don't actually know what's going to work. You need a framework for getting things out quickly, measuring them, doubling down if they work, or moving on if they don't." — Josh Petersen
Click To Tweet
"It's common that people think 'we've got this one great idea and we're going to make it happen'. It's more efficient to work through five ideas and then refine them." — Josh Petersen
Click To Tweet
"Data trumps intuition. My hunches and intuition were wrong time and time again. Listening to the data is very important." — Matt Round
Click To Tweet
Fun Photos and Memorabilia
Declaration of Personalization and Automation – presented to Josh Petersen on Jan 2 2002 – photo from Josh Petersen
---
---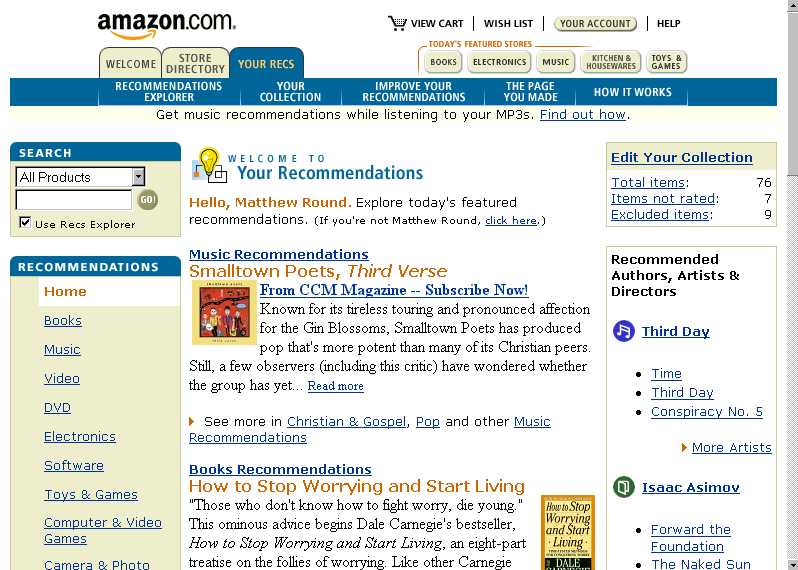 ---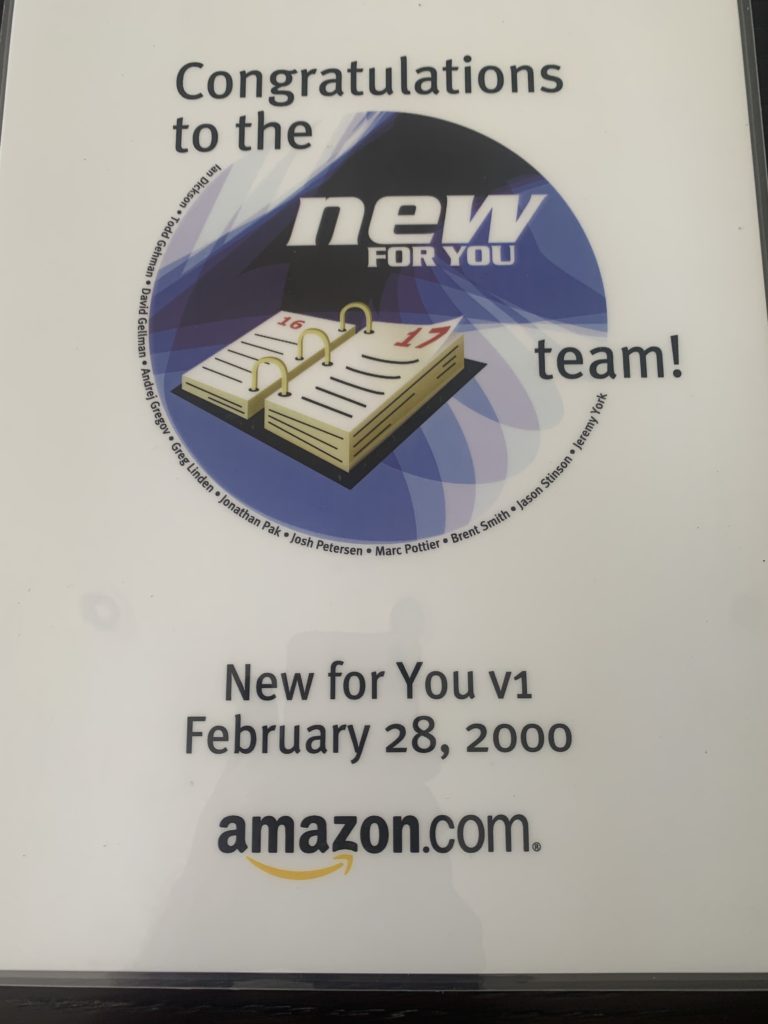 What to Listen For:
00:00 Intro
02:01 Personalization feature examples
05:17 How Personalization features were evaluated
08:00 Item-to-Item Similarities versus Collaborative Filtering
09:40 Personalization aims to build out a store for every customer
12:17 Putting together a team focused on Personalization
14:12 Tracking which features were generating which results
17:12 How do Web Labs work?
20:17 Big wins for the Personalization features
24:22 How did Personalization work for new customers?
28:53 Impact on Editorial team when Personalization became more automated
32:30 Amazon's Customer Reviews
34:14 Emergence of advertising on Amazon
39:29 Two Pizza Team model: small cross-functional teams with a narrow focus
42:57 Personalized merchandising vs Automated merchandising
45:35 Matt's Recruiting Tool (MRT): How and Why Matt built a simple tool to manage the interview process
50:24 The Amabot Story
54:46 Iquitos: the first successful microservice at Amazon
59:10 Pressure from the product side produced innovation on the technical side
01:00:14 By testing a lot of things, you learn about things you don't know
01:02:56 Listening to data is very important